MANJANA® Man U-classic Shirt - integrated underarm sweat protection
Feel secure, without annoying sweat stains!
MANJANA® functional bodywear are premium quality undershirts with large integrated sweat protection pads that hinder the formation of sweat stains on outer wear. The protection consists of two layers (both inside the shirt): A highly absorbing inner layer – (100% cotton), and an outer layer which is impermeable to liquids and protects outer clothes - (100% waterproof polyurethan).
Various models and sizes are available in colours white, black and skin-colour. The undershirts don't attract attention under outer clothing and have a remarkably high wear comfort.*
The MANJANA® functional bodywear-collection is short-sleeved to achieve the desired protection results, which can only be obtained with a thoroughly covered armpit region. By using the flatlock-technique the very flat seams don't attract any attention under outer clothing. All shirts in the men's collection are made out of 95% cotton and 5% elastane
MANJANA® men-U-classic-shirt
The men's Basic shirt has a high round neckline and can perfectly be combined with all kind of business and casual wear. The round neckline is ideal to wear visibly and even convenient to hide behind a tie or collar. The protection pads don't interfere with movement. Due to its consistency (100% cotton and 5% elastane) it is breathable and high in comfort.
Advantages overview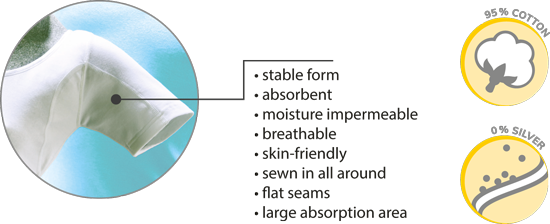 Integrated underarm sweat protection pads absorb sweat and prevent stains:: 
Inner protection layer (towards skin) absorbs great amounts of sweat - 100% cotton
Outer protectionlayer (towards shirt) protects clothing from sweat stains - 100% waterproof polyurethane
Avoid unpleasant odours with MANJANA® functional bodywear beneath any sort of clothing
Outer clothing doesn't need permanent washing anymore
Flat-lock technique makes the shirt almost invisible beneath outer clothing
95% cotton & 5% elastane make shirt skin tight and comfortable
Available in white & black
U-classic & V-modern, cuts available
High quality - (hand-) Made in EU
Note:
MANJANA® shirts can be used when you suffer from increased sweating. If you suffer from excessive sweating, so called hyperhidrosis, the Plus Shirt is recommended or the use in combination with an antiperspirant like for instance SweatStop® Medical Line IXAL Roll-on.
Information according to textile labelling law: This shirt consists of 95% cotton and 5% elastane, the protection area consists of 100% cotton on one side and of 100% polyurethane on the other (please also see details under heading "Features").
Features of MANJANA® Man U-classic Shirt
The integrated protection area against underarm sweat stains consists of two layers: An inner layer made out of 100% cotton which safely absorbs great amounts of underarm sweat, as well as a waterproof outer layer made out of 100% polyurethane, which protects outer clothing from becoming wet.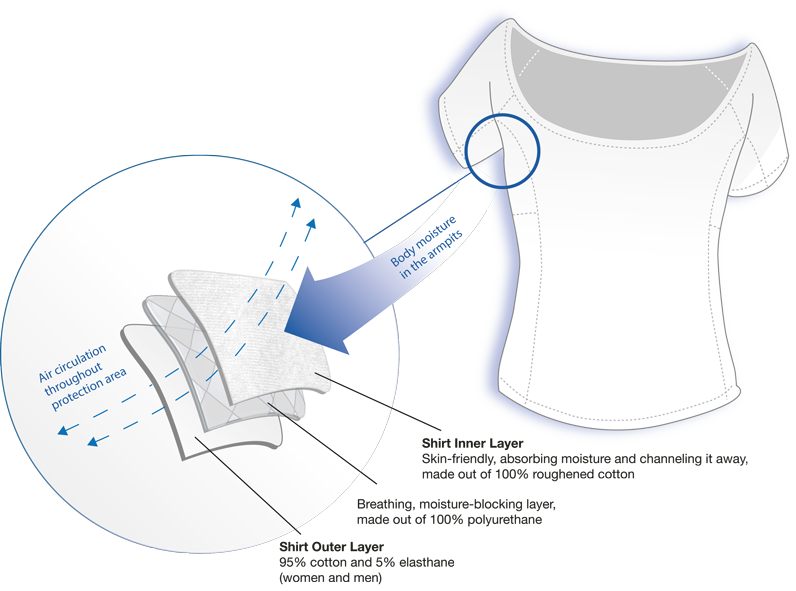 Size Chart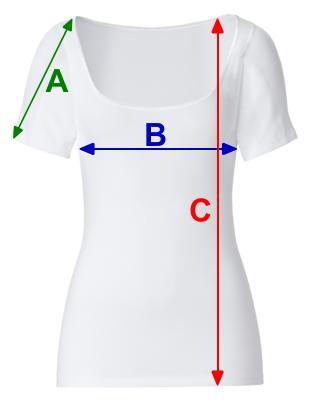 | Item No. 6005 | S | M | L | XL |
| --- | --- | --- | --- | --- |
| | 44/46 | 48/50 | 52/54 | 56/58 |
| A | 21cm | 21cm | 23cm | 24cm |
| B | 36cm | 39cm | 42cm | 45cm |
| C | 76cm | 76cm | 78cm | 80cm |
Care Instructions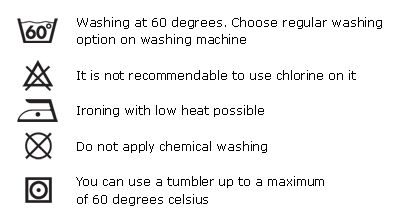 Your Degree of Sweating?

Strong

Application Area

Armpits

Product Type

T-Shirt

Colour

White & Grey

Brand

MANJANA®

Subject Area

Sweating

Cut

U-classic

For

Men

Volume

1 Product

Refund Warranty

No
Have you seen?
Customers who viewed this product also viewed the following products.