SweatStop® men-V anti-sweat shirt against sweat stains
Herren-V-cut undershirt in white with integrated, highly absorbent underarm sweat protection against sweat stains. Efficient moisture management, high wearing comfort and increased durability thanks to LENZING™ Modal high-performance fibre. Particularly elastic and shape-retaining thanks to 5% elastane content.
The shirt is simply worn under outerwear and absorbs large amounts of sweat - thus preventing unpleasant sweat stains.
Colour: White
Cut: V
Sizes: S to XXL
Advantages of SweatStop® anti-sweat shirt
Integrated underarm pads reliably absorb large amounts of underarm perspiration

LENZING™ Modal high-performance fibre made from 95% cotton and 5% elastane offers

- Efficient moisture management

-High breathability

- optimum fit thanks to its elasticated and shape-retaining properties

- high wearing comfort thanks to its natural softness and slightly cooling properties


Protects clothing from sweat stains
Protects clothing from deodorant stains
Gentle on outerwear thanks to fewer washes
Avoid unpleasant odours when wearing synthetic clothing
Discreet look: shirt wears discreetly under outerwear
High-quality, robust workmanship
How it works - What is TENCEL™ Modal
The SweatStop® anti-sweat shirt is made from a high-performance TENCEL™ Modal fibre with 5% elastane. The fibre is characterised by its efficient moisture management, high wearing comfort, shape-retaining properties and durability. The natural softness and slightly cooling properties of the fabric make it feel pleasant against the skin when worn. In addition to the material's ideal anti-sweat properties, the integrated, highly absorbent underarm wetness protection ensures high sweat absorption and thus prevents unsightly sweat stains on outerwear. The absorbed liquid evaporates largely unnoticed when worn.
Modal
Modal is a synthetically produced natural fibre made from 100% natural cellulose from beech wood. This particularly adaptable fibre is characterised by its exceptional softness. Compared to cotton, it is more elastic and therefore more dimensionally stable and hard-wearing. The fabric creases less than cotton and can absorb larger amounts of moisture but also wick it away again quickly. Compared to viscose, modal is more durable, supple and absorbent. The fibre has a similarly good moisture management as other synthetic fibres such as polyester, but is much more skin-friendly.
Modal is characterised by a pleasantly soft, gentle wearing comfort with slightly cooling properties. It is particularly breathable and is therefore particularly suitable for use in underwear and tight-fitting clothing. The fabric feels silky soft on the skin and drapes smoothly. Its visually silky lustre remains permanent.
Modal is particularly durable, significantly more durable than cotton. Even with frequent washing, the fabric retains its soft, pleasant properties and hardly changes at all.
The sum of its positive properties make modal ideal for use in functional clothing to prevent sweating.
TENCEL™ Modal
TENCEL™ Modal from LENZING are cellulose fibres of botanic origin and define a new standard in sustainability and natural comfort. They are characterised by a sustainable, environmentally friendly production process. The fibres from naturally growing beech wood are obtained through an ecologically responsible integrated pulp-to-fibre process. This is energy self-sufficient and utilises co-products from components of the wood.

TENCEL™ Modal fibres have excellent colour and shine properties and are exceptionally soft and pleasant on the skin. The high flexibility of the fibre gives the textile a naturally soft feel. SweatStop® anti-sweat shirts are made from 95% TENCEL™ modal fibres and 5% elastane. Blending TENCEL™ modal fibres and elastane significantly improves the softness of the fabric and makes it even more comfortable to wear.


Size chart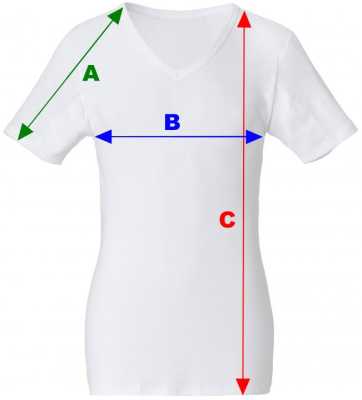 | Item No. 9606 | S | M | L | XL | XXL |
| --- | --- | --- | --- | --- | --- |
| | 32/34 | 36/38 | 40/42 | 44/46 | 48/50 |
| A | 25,5cm | 26cm | 26,5cm | 27cm | 27,5cm |
| B | 44cm | 46cm | 48cm | 50cm | 52cm |
| C | 67,5cm | 69cm | 70,5cm | 72cm | 73,5cm |
Care Instructions

Wash at 40°


Tumble dry possible


Do not iron


Do not bleach

Your Degree of Sweating?

Strong

Application Area

Armpits

Product Type

T-Shirt

Colour

White

Brand

SweatStop®

Subject Area

Sweating

Cut

U-modern

For

Women

Volume

1 pc.

Refund Warranty

No